We're in a new era of AI-powered search and things are changing fast. With Artificial Intelligence (AI) making waves in the search industry, Bing is leading the charge. Microsoft is seeing a surge in popularity thanks to its recent integration of ChatGPT with its search engine, Bing and its browser, Edge. If you're looking to improve your website's visibility, it's important not to overlook Bing. That's why investing in SEO for Bing is just as crucial as optimizing for Google. By optimizing your site for Bing, you can reach even more potential customers and boost your online presence. So, don't forget the importance of Bing SEO!
You've probably heard of ChatGPT by now, it's been making waves across the world since its introduction in November 2022. With a chat button now integrated into the toolbar of Bing's new search engine, users can enjoy a ChatGPT-like conversational experience. Because to GPT-4, Bing's ChatGPT bot is much more up to date and is able to respond to questions regarding far more recent events, even though OpenAI's ChatGPT bot was only trained on data up to 2021.
Here are some ways Bing is using AI to eat away at Google's market share:
Personalised Search Results
Bing is taking search to the next level by using the power of AI to deliver more personalised search results based on a user's search history and preferences. Thanks to machine learning algorithms, Bing can now better understand a user's intent and serve up more relevant results. This not only improves the user experience but also makes Bing a more appealing alternative to Google.
Personalised recommendations: Based on your previous searches, Bing's AI can suggest content that is more relevant to your interests. For example, if you frequently search for recipes, Bing can suggest cooking websites or specific recipes that match your preferences.
Personalised results based on location: Bing's AI can provide search results tailored to your location. For instance, if you search for "coffee shops", Bing can show you the coffee shops that are closest to your current location.
Personalised shopping: Bing's AI-powered visual search is excellent for locating comparable goods that fit your tastes and style. Simply take a photo of what interests you, and Bing will suggest products you'll adore.
Personalised newsfeed: Using your interests and choices, Bing's AI can curate a newsfeed for you. Even better, it can learn from your reading preferences and recommend items you're more likely to like.
Personalised travel recommendations: Bing's AI can offer trip locations, accommodations, and activities that fit your preferences and financial constraints. It can suggest locations you'll adore based on what you've already searched for.
Personalised weather updates: Bing's AI can provide you with weather updates that are tailored to your needs. When it's about to rain, it can notify you so you can adjust your plans for the day.
Visual Search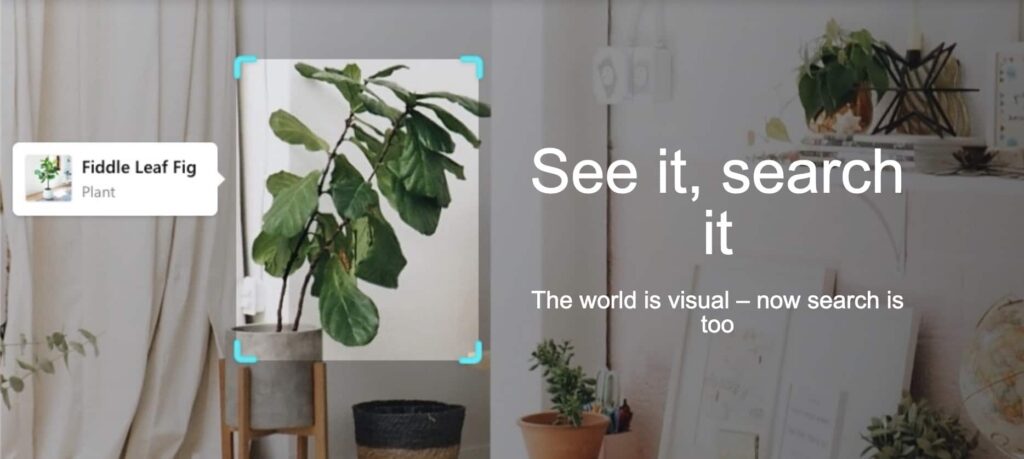 Bing has come up with an exciting new way to search for images and products – by using pictures instead of keywords! They're using cutting-edge AI technology developed by Microsoft to make this visual search feature possible. By doing so, they can deliver more precise and meaningful search results that users are sure to appreciate. In fact, with the increasing popularity of visual content, Bing's visual search could be a game-changer and give Google a run for their money.
Natural Language Processing:
Bing has been working on improving its voice search capabilities by using natural language processing (NLP). This exciting technology helps Bing better understand what you're saying so it can provide more accurate and relevant search results. Since more and more people are using voice search, this feature could really set Bing apart from Google. With NLP, Bing can understand your spoken queries as if you were talking to a friend, which means you'll get the results you're looking for even faster.
Answer Bots
To quickly respond to user inquiries, Bing uses AI-powered answer bots. Users may benefit from this feature's time savings and improved search results. Bing may be able to attract more people and take market share by using AI to give more precise and pertinent responses than Google.
Integration with Microsoft Products
Bing is integrated with Microsoft's other products and services, including Windows and Office. By leveraging AI across its product suite, Microsoft can provide a more seamless and integrated user experience, potentially attracting more users to Bing.
By adding AI technologies, Bing is really stepping up its game. This implies that Bing can provide some really great services that may even compete with Google's hegemony. Bing may provide AI-powered features like visual search, natural language processing, response bots, integration with Microsoft products, and personalised search results that genuinely match your interests. Further improvements to Bing's AI capabilities might potentially increase its competitive advantage over Google. Who knows, Bing could end up being the preferred search engine in the future!
If you want to get more traffic to your website, DigitalVillage can help with our awesome SEO services! We'll optimize your site so it ranks higher on both Google and Bing. Want to learn more? Just contact us!